WELCOME TO RESIDENZ HOTEL AM MARTINSBERG
YOUR BOUTIQUE HOTEL IN ANDERNACH NEAR KOBLENZ, GERMANY
Residenz Hotel Am Martinsberg invites you to discover a one-of-a-kind blend of warm hospitality, crisp service and unmatched convenience in the heart of Andernach, Germany. As one of the top boutique hotels in Andernach, we offer a refined yet casual setting ideal for business travelers, cyclists, family holidays and relaxing couples' escapes.
For long-term guests and business travelers, we offer individual services, such as laundry service or takeaway breakfast. Please contact us directly to enquire for a company agreement with us. We offer refined services and adapt to the individual requirements of your staff member and your company.
We aim to offer specialized services to hikers, cyclists and motorcyclists and are a certified Bett + Bike hotel, located on the Rhine Cycle Route (RheinRadWeg). Get to know more about our biker and hiker friendly services.
Are you searching for a hotel in Andernach, Koblenz and the Middle Rhine Region that is capable to accommodate groups, e.g. for coach travels? We are able to accommodate bigger groups of people and offer tailor made services that suit your needs and work with local partners and restaurants. Contact us for more information.
Located only 400 metres from the historic old town of Andernach, in close walking distance to the Geyser Centre, Residenz Hotel Am Martinsberg offers travelers the best of both worlds: the intimate ambience and personalized service expected from a small, privately run boutique hotel and the amenities of a modern accommodation. Personal attention to every guest is one of our hallmarks. Start each day with our popular, sparkling breakfast buffet. Gather for snacks, drinks and one of the best value breakfasts in our winter garden or our fireplace room.
Explore Andernach, the Volcanic Eifel and the Upper Middle Rhine region by foot or bike. Residenz Hotel Am Martinsberg is situated on the famous Rhine Cycle Route (RheinRadWeg), close to the rhine river and Koblenz in the heart of the UNESCO world heritage Middle Rhine Region. Additionally, the famous Nuerburgring, the Lake of Laach and the famous fortification Ehrenbreitstein are only 15 to 20 minutes' drive away. For hikers we recommend the nearby hiking trail RheinBurgenWeg with its beautiful castles, such as Burg Namedy in Andernach. The Cologne Trade Fair Koelnmesse can be quickly accessed via local train in just 50 minutes. Get to know more about things to do around Andernach on our website.
On your next visit to Andernach, treat yourself to decent comfort and gracious hospitality at Residenz Hotel Am Martinsberg and enjoy pleasant wellness and spa treatments at our partner Monte Mare. Check out our special offers.
Be sure to book directly through this official website to take advantage of our "Best Price Guarantee", which includes at least a five percent discount on your accommodation. Get to know more about our Best Price Guarantee.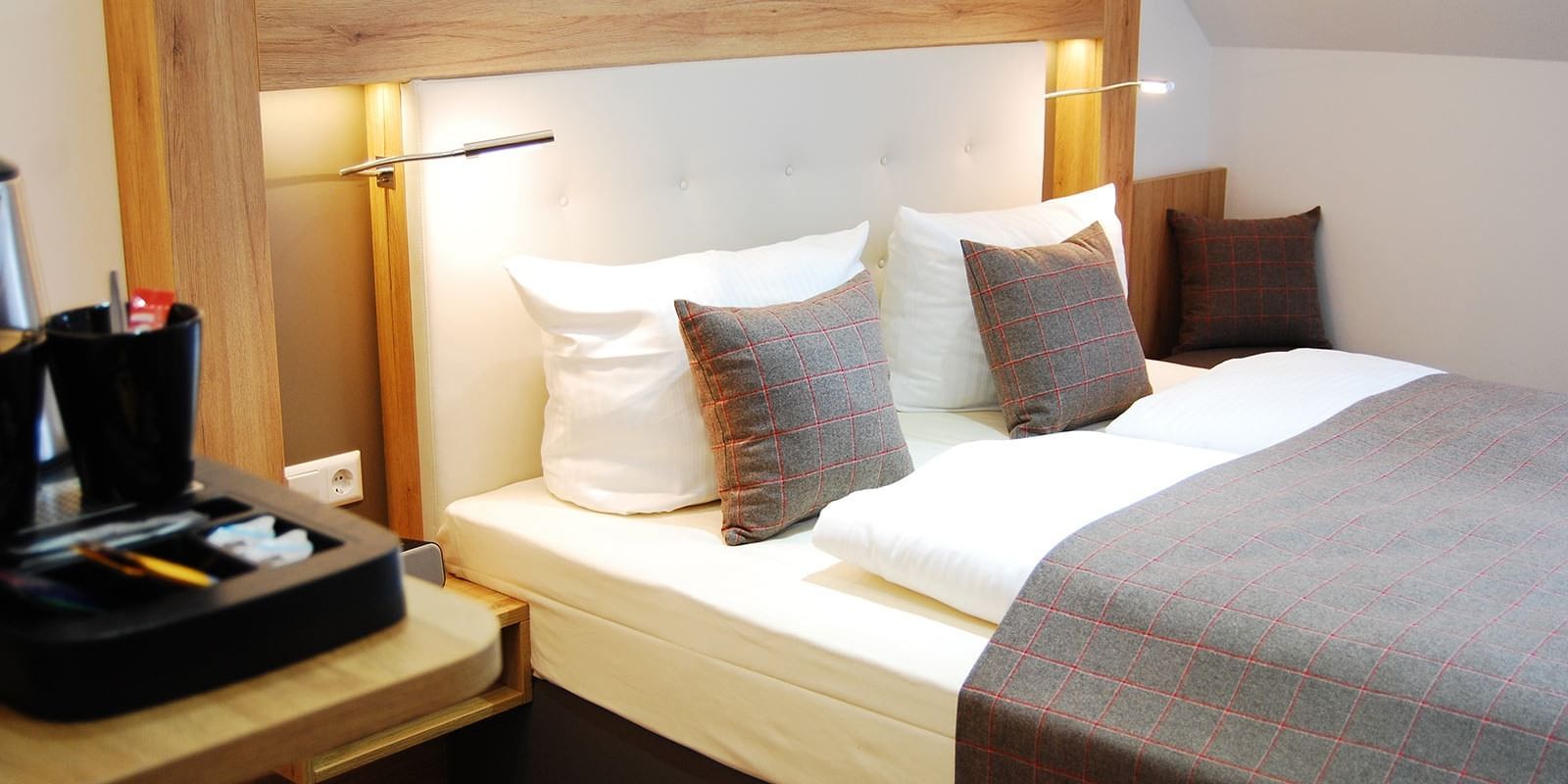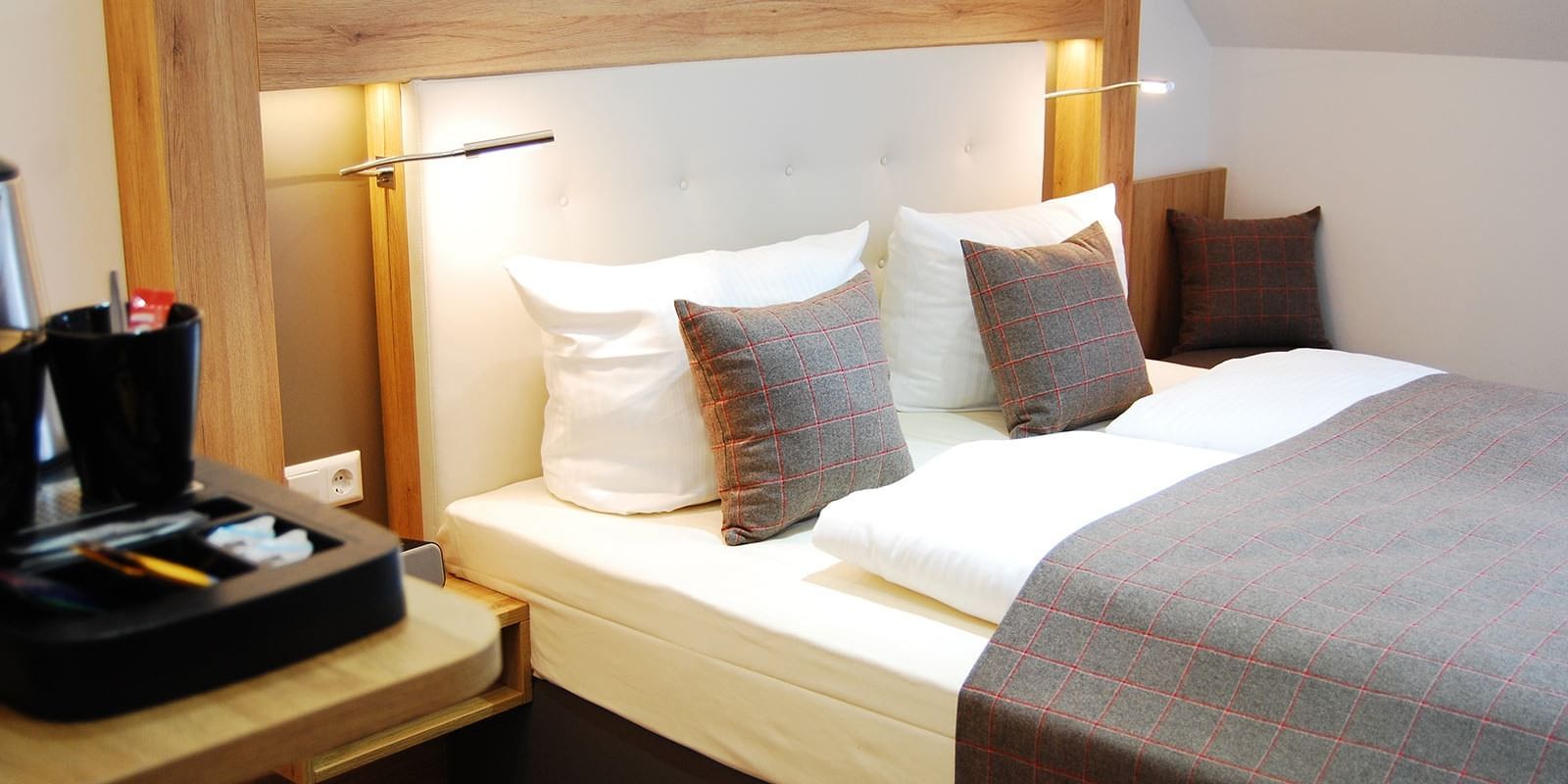 Rooms
Our Andernach hotel rooms designed in a cottage style, are equally suited for business or holiday travel.
Read More
VALUABLE ANDERNACH HOTEL OFFERS, SPECIALS AND PACKAGES
TAKE ADVANTAGE OF RESIDENZ HOTEL AM MARTINSBERG DEALS
Find our newest budget-friendly Andernach hotel offers and packages below. Book directly online via this website and secure the following advantages.
ATTRACTIONS AND THINGS TO DO IN ANDERNACH AND KOBLENZ REGION
EXPLORE ATTRACTIONS NEAR RESIDENZ HOTEL AM MARTINSBERG
As a guest of Residenz Hotel Am Martinsberg, you will enjoy unmatched access to the most popular sightseeing attractions and things to do in Andernach and the Rhine Valley. Perfectly situated near the Old Town of Andernach, our hotel is steps away from the famous Andernach cold water Geyser, the Rhine River, the hiking trail RheinBurgenWeg, the cycling trail RheinRadWeg and more.
Nice hotel with frienldy stuff. Parking is a bit complicated if you came late afternoon.
Everything was very clean and new. The room was a little small. We were on the top floor where the ceiling slants in on one side.
A lovely hotel close to the centre with very friendly and helpful staff. The room was clean and comfortable and the breakfast was delicious. Both the room and the breakfast were extremely good value for money.